If you are reading this is because I have successfully survived Emerald City Comic Con last weekend. If you missed out of the shenanigans and whatnot, well then grab your favorite beverage and sit back and enjoy the following con review!
What makes this show different from all the dozens of shows I've attended? Well, its in my backyard of course! That means no TSA rectal searches, red-eye flights or tiny bottles of rums. Tiny bottles of rum. Really? We go big here in Washington!
Con goers got to enjoy another 3-day jam packed Nerdapalooza! And from what little I got to see away from my table was easily twice as large as last year! I was pleased to see the turn out! I just want to clarify that when I say the show rules, its the people who come to the show that make the show epic! A big thank you to everyone who stopped by the table to chat! There were so many of you but you know who you are… thank you! A bigger thanks goes out to everyone who spent some of their hard earned dabloons to buy some Amano art! You keep me doing what I'm doing! Cheers to you all!

As you may have heard my newest item this year is my 2013 Foreplay! Sketchbook. I thought I would do something a little different than what I've done in the past. Riding the wave of the blank sketchbook cover craze. I thought it would be a nice thing to give anyone picking up a copy a sexy Copic marker sketch on the back cover. Like so…
If you missed out this weekend, not to worry, you can get your hands on this little item via my online web store click here! Make sure you mention in the comments field what you would like me to draw, otherwise I'll just pick something super sexy to sketch!
I also remembered to take some snap shots of some of the commissions I did during the show:
As always we here at the Amano homepage would like to thank all the charming FINE looking ladies that stopped by to show off their cosplay skills! Anyone whose image I post and would like to get credit info put in, drop me a line.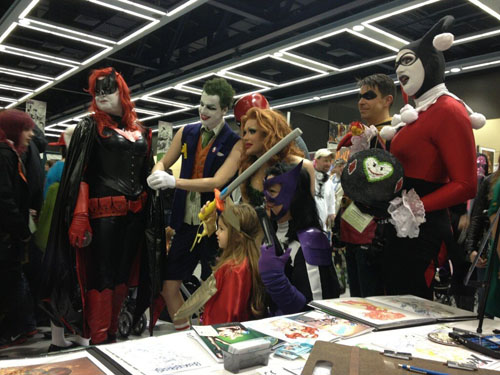 Amazing Gotham cosplay group of fellas!
As you can see, I'm not shy about picture intensive posts. My apologies to those of you rocking 33.6 baud modems but its time to upgrade brother! I want to give all the my fellow Transformers nerds a little love:
Thank you to the ladies and gentlemen of the ECCC Burlesque show Friday night! You put on one hell of a nerdtastic sexy show! I have to repeat the term "fearection" to describe the feeling i got from seeing the Alien vs Predator strip tease. I have been to many a performance and have to say that was fucking amazing! I love that there is so many talented individuals in the Pacific Northwest! I truly want to say you deserve all the recognition and kudos for what you do! Cheers!
For those of you who missed going this year because life just didn't want to let you tear away… not to worry… I will return next year! Make sure to mark you calendars! Until then, my next stop is Vancouver, BC April 20-21st for FanExpo! Prepare yourself Canada! I'll be penetrating you and injecting you with smooth sexy pinup arts!
Until next time my little art monkeys, stay sexy, drink your rums and don't stop creating!
—>Amano
P.S.
These chocolates are FUCKING amazing!