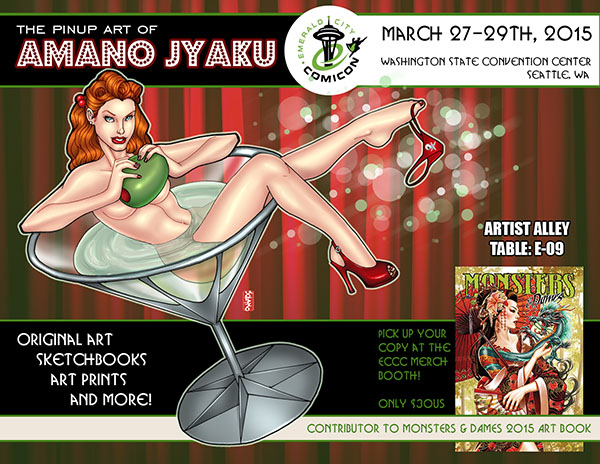 Happy New Year fellow art monkeys! I wanted to let you all know about the Pacific Northwest's biggest geek event of the year.. Emerald City Comic Con! I'm honored to be included in this year's Monsters and Dames art book! Its a collection of amazing artist drawing monsters of all kinds and hot babes to raise money for the Seattle Children's Hospital! What a groovy cause right? Make sure you pick one up and swing by my booth to get it signed! You can find me in Artist Alley Table E-09!
I'm currently opening up pre orders for original art commissions! I know the show can be crazy, pre purchase your commissions and just pick it up. The pinup arts takes time to do. Don't wait. I will make sure to spend more time and hook up your piece rather than rush rush during the show.
Email me if you are interested! Click here to email me.
I will be updating this post with sneak peeks at the goodies I hope to have ready at the show. Please check back!
Really excited, this is my favorite con to be at from the other side of the table. Looking forward to seeing faces both new and old!!
Cheers,
—>Amano