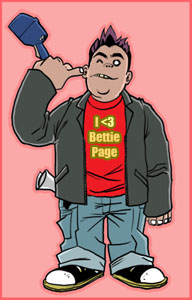 Welcome to my little piece of the intrawebs!
I've been drawing pinup girls since 1999… Still seems like its only begun. I'm not good at writing bios, dammit I'm not a writer. So what I'll do is answer a few FAQs:
How do you draw your pinups? Most of my pieces are start out pretty old school stylies… pencil and ink on illustration board. I then scan in the original lineart and complete the computer coloring step digitally on computer.
What inspires you? I'm a huge pinup fan myself so I get a lot of ideas from old pinup artwork and photography (especially from the 40s,50s) and then I add my own little twist to it. My art is heavily influenced by the anime/manga and American comics of the 80s-90s. The rest is all alcohol and nachos.
Where did you put my schnitzel? In the fridge next to the jar of olives.
What's with the name Amano Jyaku? (pronouced "ama-no ya-coo") Its my online name (handle) and pen name for my pinup art. I believe itA japanese word that translates to "perverse or cussed person, mischievous, contrarian". I think in the grand scheme of things it defines what I set out to do with my art.
Do you do commission work? Yup sure do. Go check out my "Commission" section of my website for more info.
Do you only draw women? So far, I haven't been able to find another subject worthy of my attentions. When the last redhead on the planet dies I'll cut my drawing hand off and replace it with a hook.
I don't understand the pirate references? Then my friend you haven't had enough to drink. I've always fancied the positive elements carefree freedom and rebellion associated with the pirates from my childhood books and movies. And so I hang my flag up proud everywhere I roam: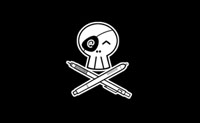 I think this is the most I've written in my life… and that includes book reports I've had to do for school!
If you are wish to contact me:
Amano Jyaku
PO BOX 30436
Bellingham, WA 98228
Buisness Phone: 305-482-1534
I'd also like to thank you for taking time out to visit my site. And for all my loyal supporters for allowing me to continue to do what I do… I hold my rum bottle up high to you!
Cheers!
—>Amano