Updated: 7/11/2012
Hey, interested in your very own original Amano pin-up girl?
I've broken things down in 3 easy steps:
Step One: Purchase! Get into my commission queue by ordering one of my commission packages from my online shop. I will get an email telling me of your order.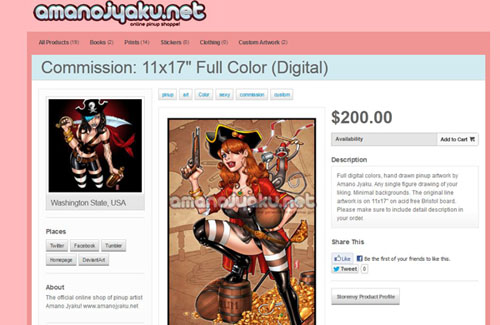 In this example, we'll use the 11×17″ Full Color Commission
Step Two: Reference Materials! Upon placing your order, you make it into my commission queue! I will email you and confirm your order. I will also ask you for all reference materials you may have that you would like me to use for your piece.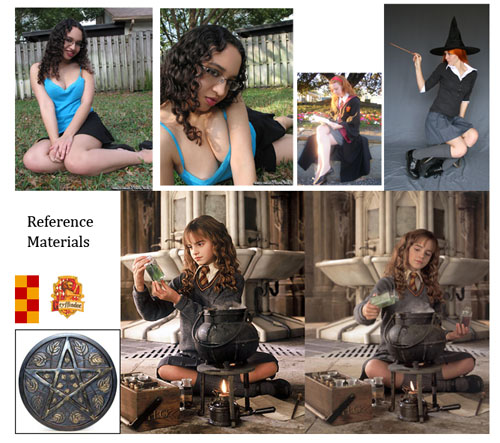 In this example, my client wanted to be transformed into a student of Harry Potter's Hogwarts.
Step Three: The Process. I will review your reference materials and commence on a what I call a "preliminary sketch". This preliminary sketch will give you an idea of where I will be going with your pinup. Once you approve the preliminary, I move ahead with the lineart drawing and then the digital coloring. Upon your approval it will take me up to two week to complete your commission. If you have a project that you need sooner, please contact me ahead of time so I can see what I can do to accommodate you needs.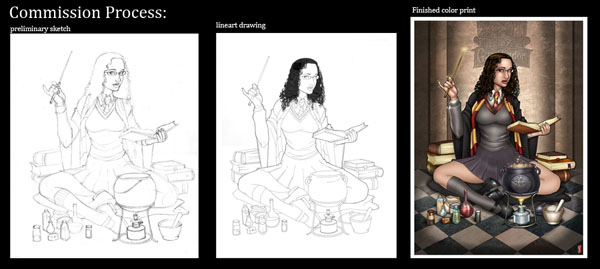 Preliminary Sketch > 11×17″ Inked lineart > 11×17″ Digitally Colored Full Color Print

The example above is what you can expect when ordering my "Commission: 11×17″ Full Color (Digital)" . I have two other packages available so make sure you visit my online shop (by clicking the "Shop" tab above) to see them. These are basic one figure packages typical of the average buyer. Of course if you are interested in something else feel free to email me for a quote. Thank you and I look forward to working with you!
–>Amano