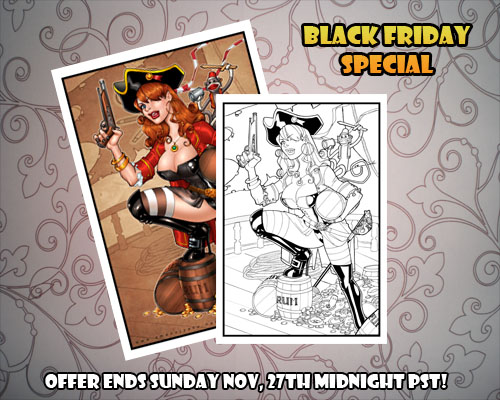 Hey pinup fans and art monkeys!
Interested in getting your own Amano Jyaku original custom artwork?? Looking for a deal this holiday? Well look no further our staff dedicated scientists have merged both these concepts together into one amazing product! Its a Festivus miracle, i know!
Ordering is super easy:
1. Kick your kids, wife, husband, cat and/or dog off the computer.
2. Think about what you would like me to draw. This might be the hardest part of the process.Remember this is for a SINGLE figure pinup illustration.
3. Secure your order by your payment via the following PayPal link (VISA/MasterCard):
SALE ENDED
4.  Wait for my email to confirm your order. Once I get your PayPal order, I will put your order on the Drawing Board. This will be a first come first serve basis. So place your order today. My goal is to get orders to you before the Christmas Holiday!
Its that simple.
What you get:
– the original 9×12″ Black & White line art drawing.
– an 11×17″ full color print of your colored lineart.
I will do my best to keep you updated on your piece. Your satisfaction is my aim! I'll be nagging you with Twitter and Facebook reminders until the sale ends. If you want to stay up to date with my artwork and shenanigans make sure to add me to your social network.
Have a happy holiday everyone. Don't drink to much, don't eat to much, but have plenty of (safe) sex!
Gobble!
–>Amano