Hey true believers! Well for those of you on the pulse of the Amano twitter may have already got a little peek at the winner of the Free Sketch (read my last post to catch up on what's up). I want to thank everyone who purchased a print! And a big congrats to our winner Joanie Riley. She requested a hottie little Deli girl: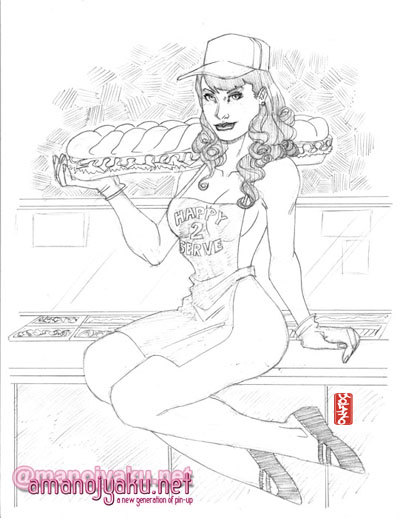 Yeah, I know… I kinda feel hungry too, lol. That said, I've added some new prints to my shop this week, so I'm thinking of having another "Free Sketch Contest". If you purchase anything from my online shop until April 30th, your name will be entered into a raffle that will win you a free sketch as the one shown above, or your choice. The winner will be announced May 1st. Amano appreciation continues!!!
Viva le Pinup,
—>Amano
P.S.
Make sure you add me on Twitter to stay in touch with all things Amano!